Tmux Pom v0.1
Published: 3/22/2021
Subscribe to Ja3k
That's right this blog is now a newsletter.
Thanks for subscribing!
In the spirit of one of my new years goals I wrote a pomodoro timer extension for tmux. You can see the source code, and try it out for yourself here.
It's pretty minimalist. You can see a screenshot of it running in the bottom right corner as I wrote this blog post here: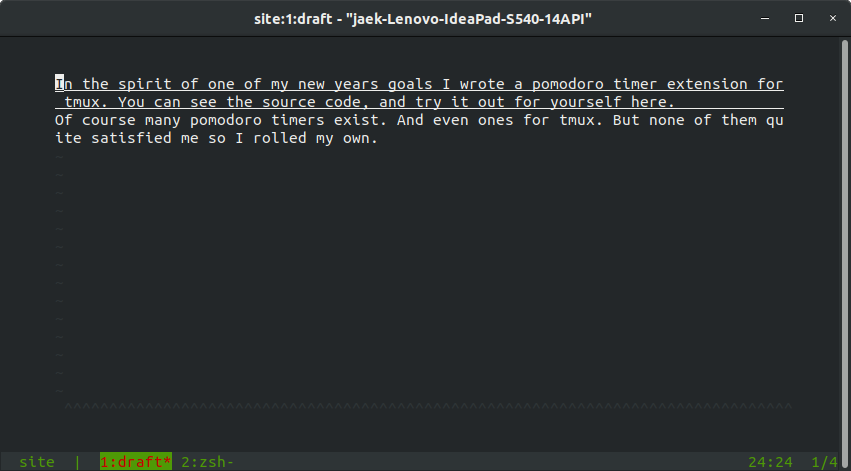 Of course many pomodoro timers exist. And even ones for tmux. But none of them quite satisfied me so I rolled my own. The features I specifically wanted outside of the simple ones required to satisfy the notion of a pomodoro timer were:
The timer to be integrated into a status bar. Maybe I should have integrated it into the Ubuntu or Chrome status bars instead. But it was important to me that using the timer didn't involve having another window or chrome tab open.
Automatic logging of pomodoro start times. To be honest I'm not sure I'll really get anything valuable out of this feature but it seems nice to correlate it with other self analytics I collect. Maybe I'll learn something about my self.
If you're interested in using this program yourself you can follow the installation instructions in the read me. Please let me know if you have any questions or notice anything broken.