Some Good Eating
Published: 1/18/2020
Subscribe to Ja3k
That's right this blog is now a newsletter.
Thanks for subscribing!
One of my new years resolutions was to cook more with my girlfriend. When we moved in together and for a bit in the beginning of the last semester we tried a lot of new dishes out of some cook books she had. But at some point as we got busier we fell back on a core of just a handful of recipes which we made a lot. But really it takes about as much time to make something new as to make anything. The hard part is planning ahead before you go to the grocery store. The first two weeks of the semester have been a huge success in terms of adherence, variety and tastiness. Today I wanted to share the delicious meals we made together.
We started the new year off right with some bagels! These weren't really part of our premeditated weekend meal selection. Rhiannon spontaneously made them on new years day! The best part of bagels is bagel sandwiches. So we ate them with some eggs and slices of Daiya cheese.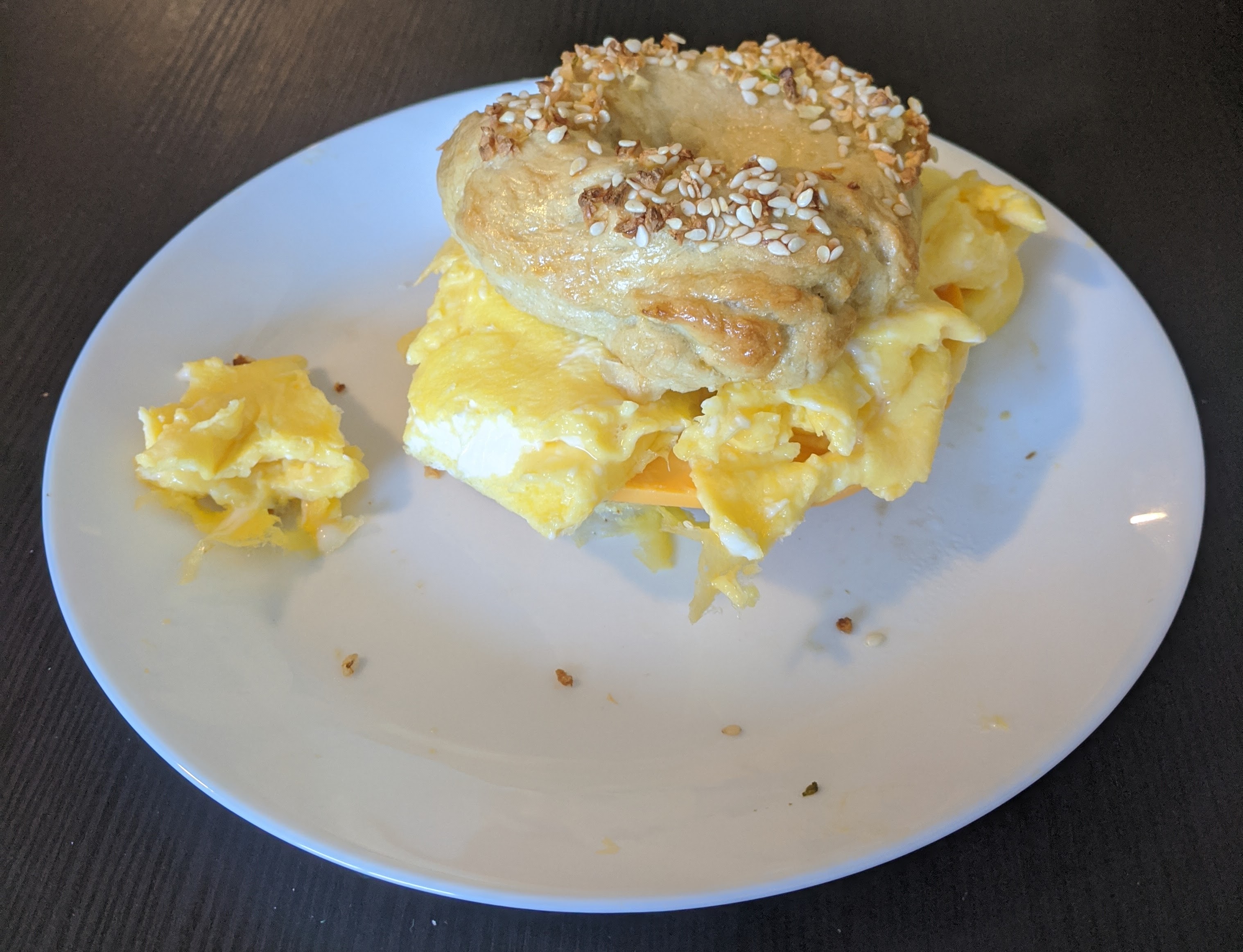 One the first day of the semester we made a chili with cornbread. While visiting UChicago last June for my sister's graduation I found a slowcooker left in the trash room. We finally got around to using it and indeed it wasn't trash. The cornbread was Rhiannon's idea. I was just going to make rice like we always do.
Also that week we made a spinach curry dish out of a vegan Indian cookbook we have. I thought it turned out really well. Even Rhiannon liked it and she hates spinach. I really like the general pattern of these curry dishes: saute some onions and then blend them up with whatever ingredients are unique to your curry. In our case tomatoes and spinach. We got a really flavorful sauce which was really good with the tofu. We served it with basmati rice and naan, out of the same cookbook.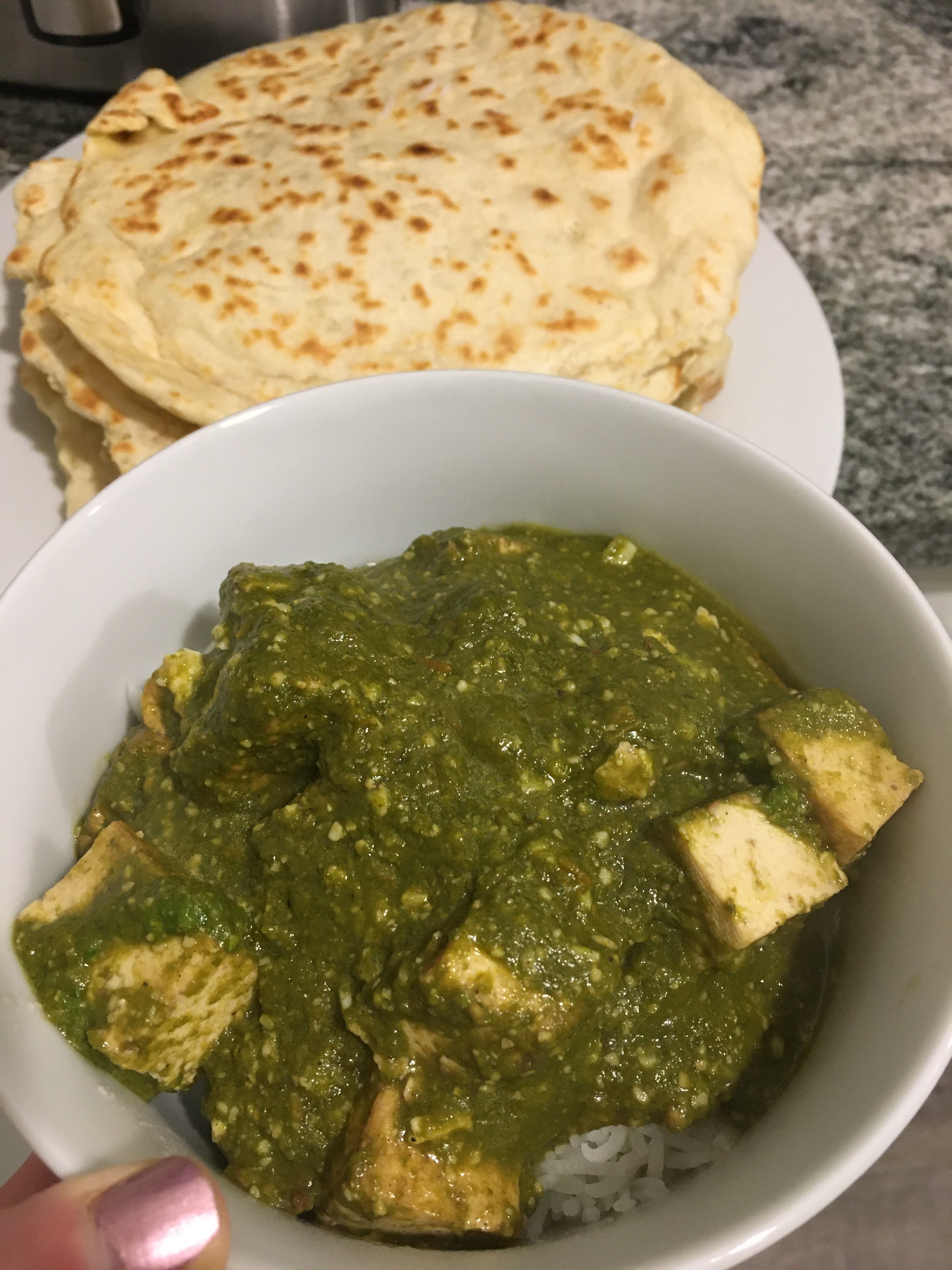 The next day we made an orange chipotle tofu dish out of a one dish vegan cookbook. Actually Rhiannon made it because I played volleyball late into the evening. But I had some of it as leftovers and it was kind of weird. Definitely a low light of out culinary adventures. Still good though!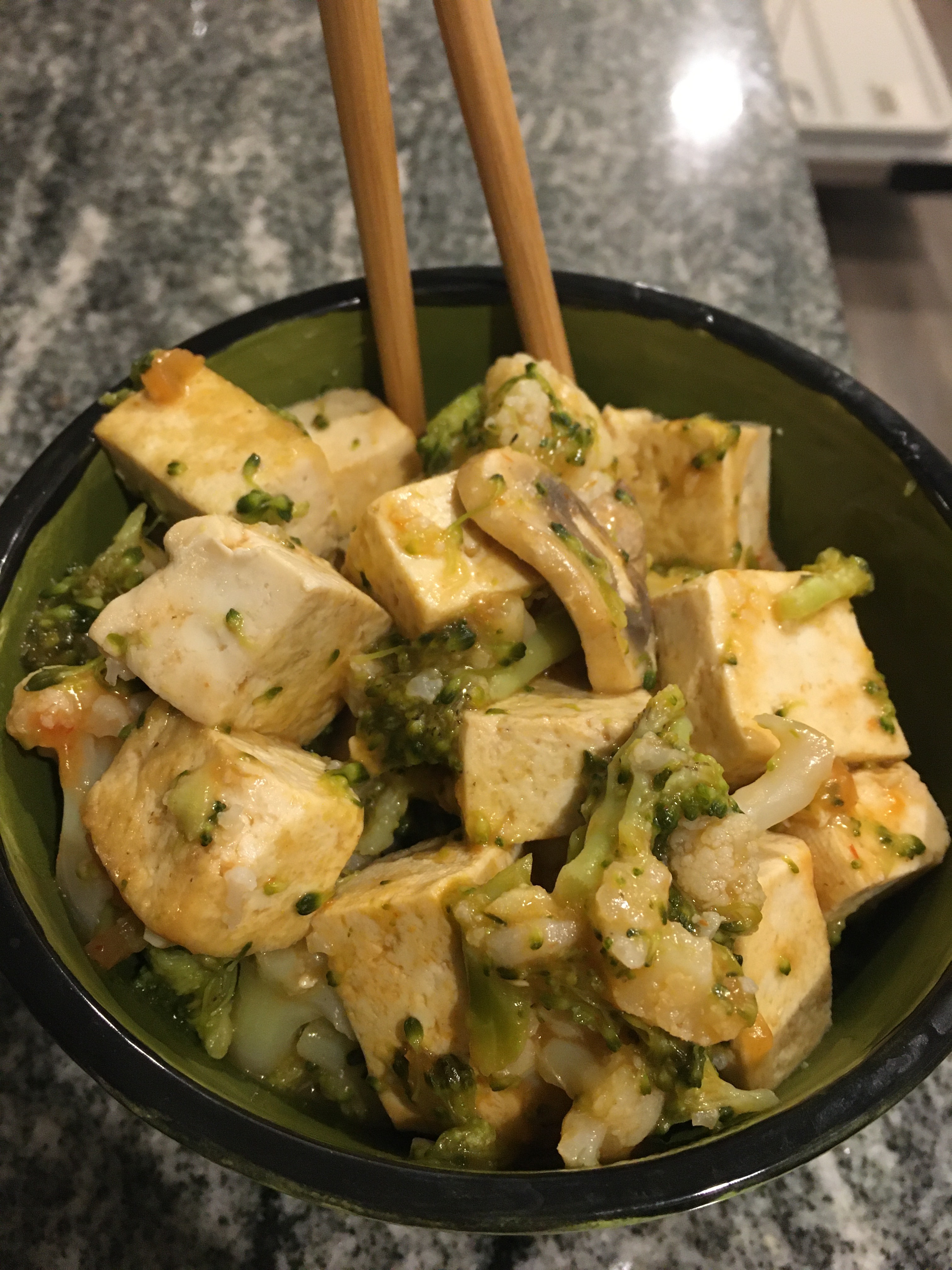 The second week of the semester after we planned out our attack and got our groceries Rhiannon wanted to make something completely different for dinner. So we picked out a simple dish we happened to have all the ingredients for from our Indian cookbook. It was a chickpea and cauliflower dish served with rice. It reminded me of Biryani but it wasn't called that in the book. The dish wasn't as popping with flavor as the curries but I quite liked it. The naan turned out particularly well. I'm not sure if its because we let it rise longer while we went to the gym to play ping pong. Or if we added the olive oil to the dough with better timing. But for whatever reason it was extra fluffy and had just the right amount of browning. I didn't snap a pick of the naans this time though.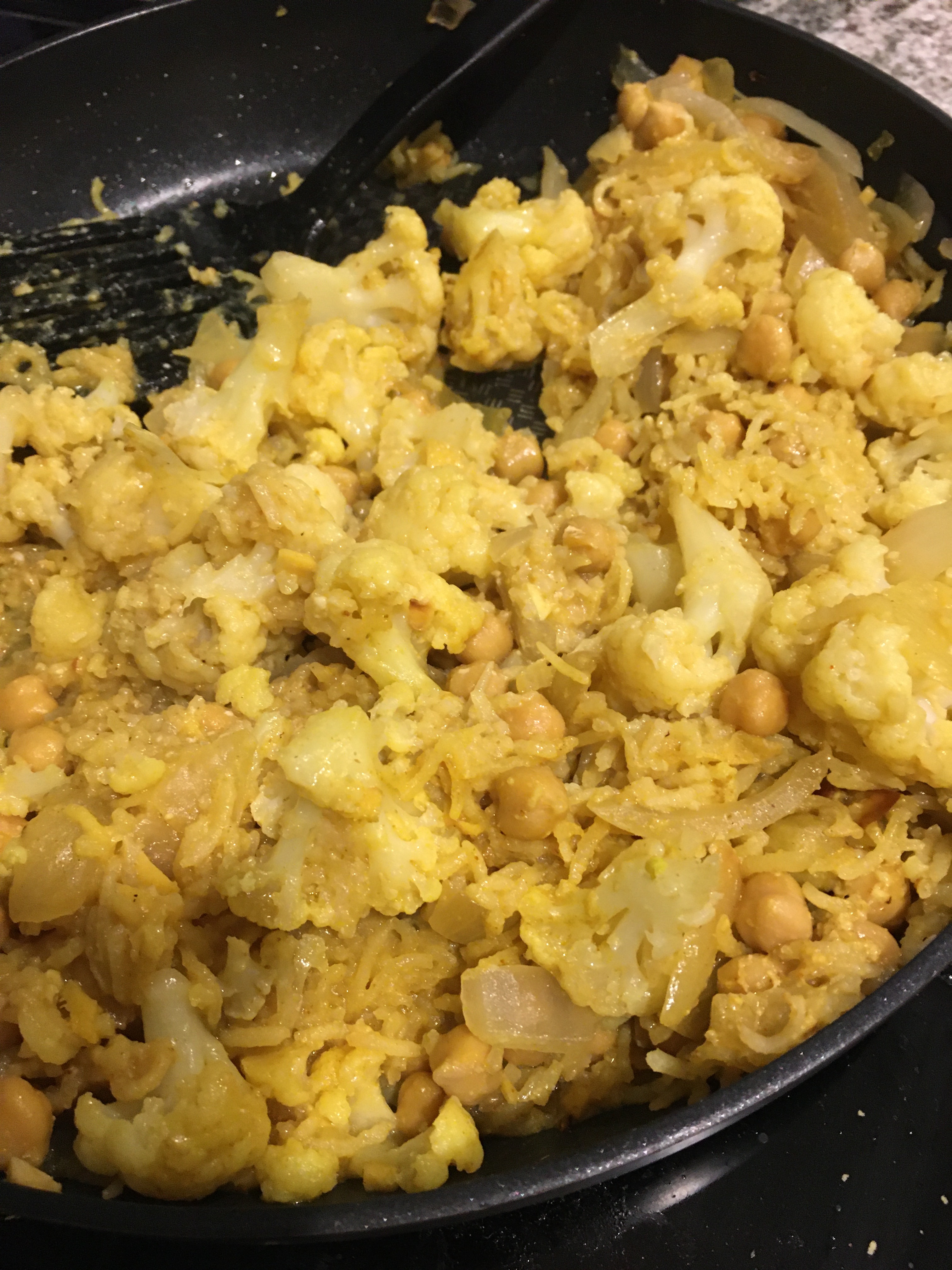 For the actual week we picked out a bibimbop, a couscous vegetable bowl, a green bean tempeh dish and a fried rice recipe. Bibimbop is a Korean dish with lots of cabbage and carrot served over rice. Well actually its usually served with fish or meat but we got our directions from our vegan one dish cookbook so ours was a little simpler and veganer. We added even more Gochu-Jang than the recipe called for for even more flavor. We served it with refreshingly crisp cucumbers on top.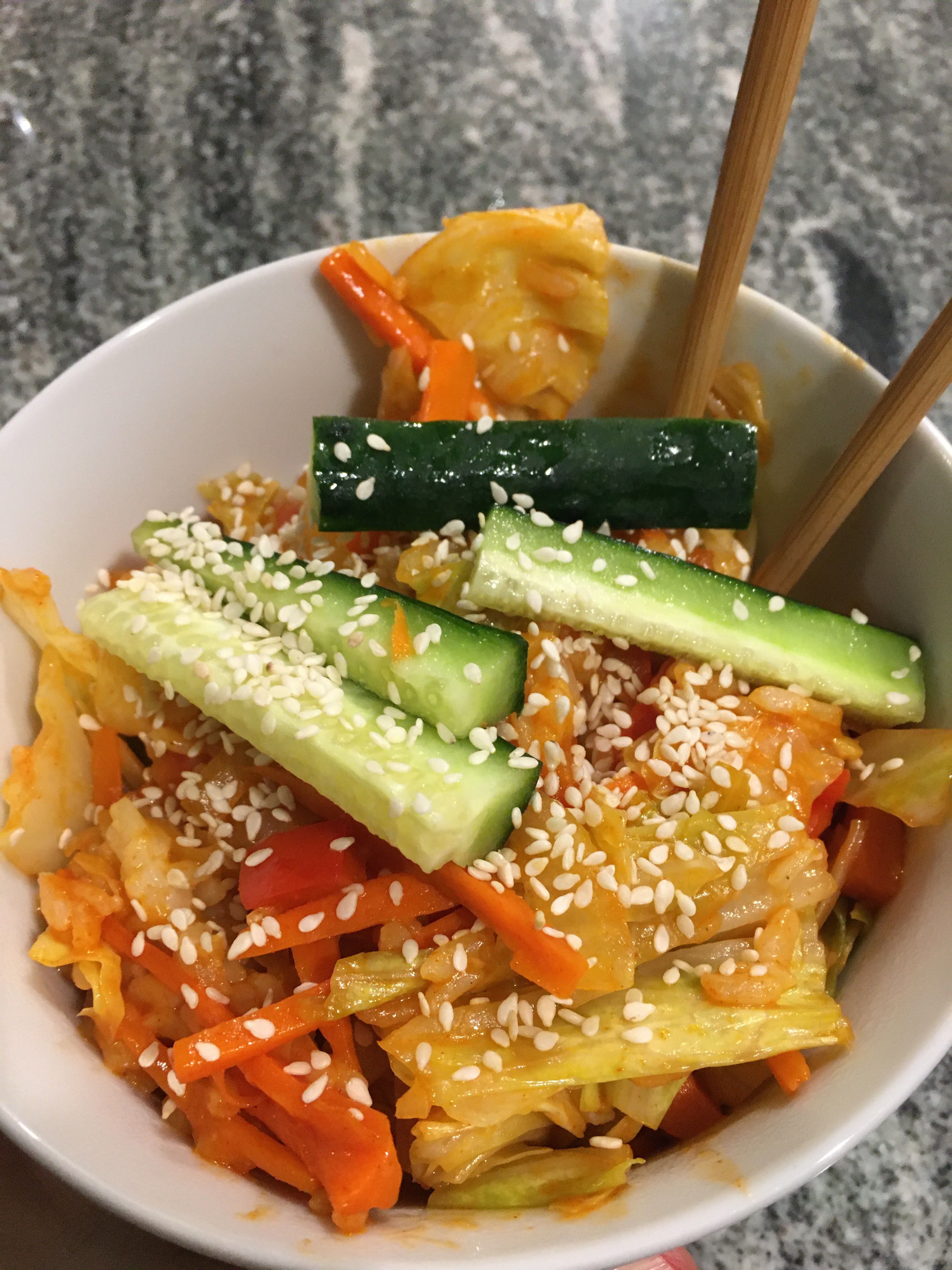 Rhiannon got toasted Isreali couscous from Amazon instead of the normal couscous I'm sure the author of the recipe intended. I can always trust her to save a buck. This substitution gave the dish a more chewy, less fluffy texture. In the end I think I liked it more than I would have if it had of been made as intended. I really liked how the chewy couscous sat with the edamame and chickpeas. It wasn't packed with flavor but it was very satisfying and fun to eat. I think we're going to make it again this week since we have way too much toasted Isreali couscous.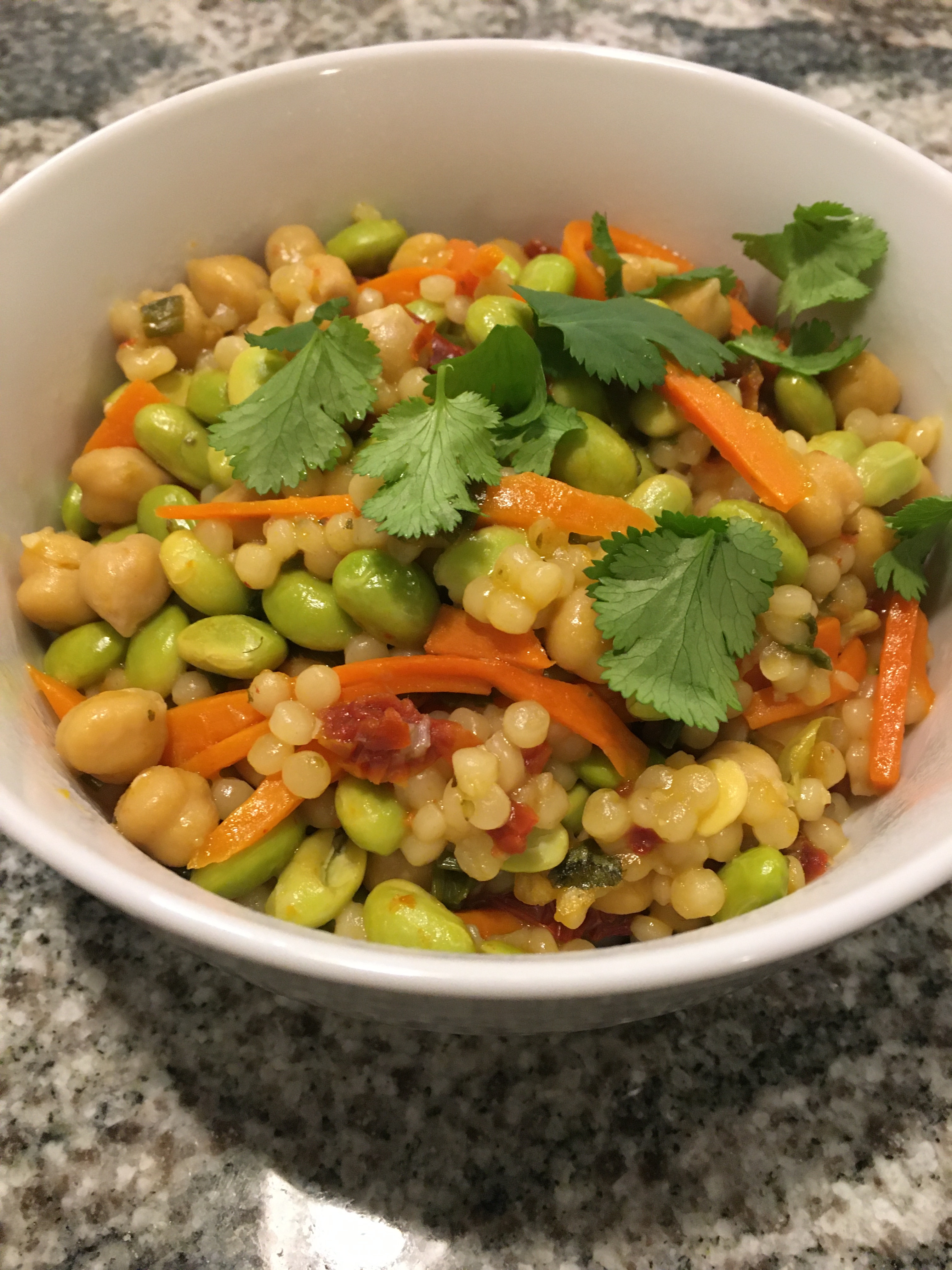 Tempeh, for those who don't know, is a traditional Indonesian fermented soy bean product. Think tofu but more crumbly and firm. At this point I'd say its my favorite meat substitute that isn't trying to be a meat imitation. We'd actually made this same recipe once before last semester. I didn't remember until I started chopping up the green beans. It's a simple but good dish which really let's the flavor of the tempeh shine. We ended up doubling the tempeh because I got a whole bunch of the Kroger tempeh packages while we were there.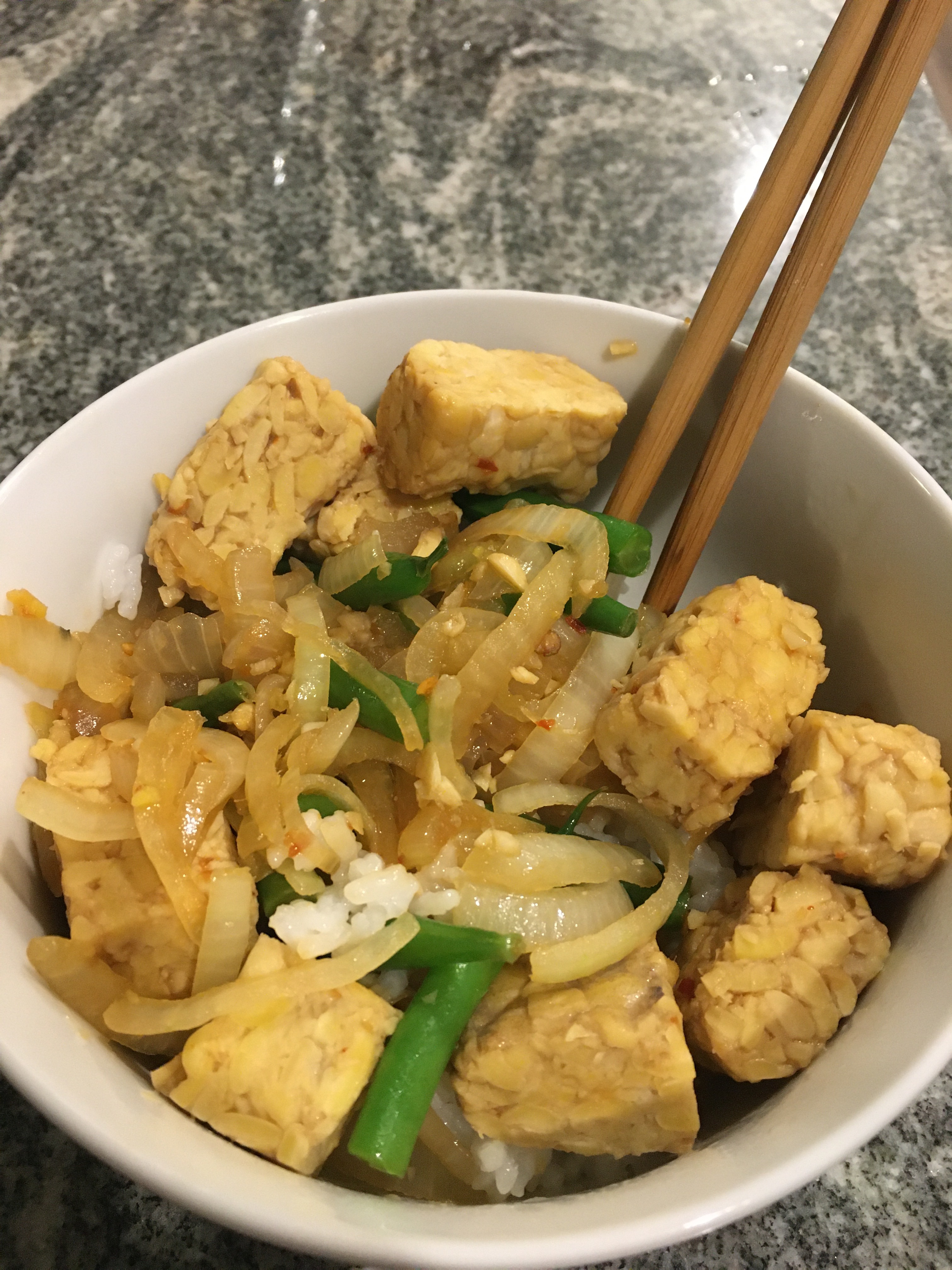 Our fried rice had a lot of tofu crumbled up in a yellow curry sauce. It looked a lot like scrambled eggs. For good measure we also cooked some sunny side eggs up to serve with the fried rice. Unfortunately while I was waiting for the last egg to cloud up I got distracted and the eggs weren't quite as yolky as I like them. But the fried rice was delicious. We still have some leftovers I'll probably finish them up for lunch today.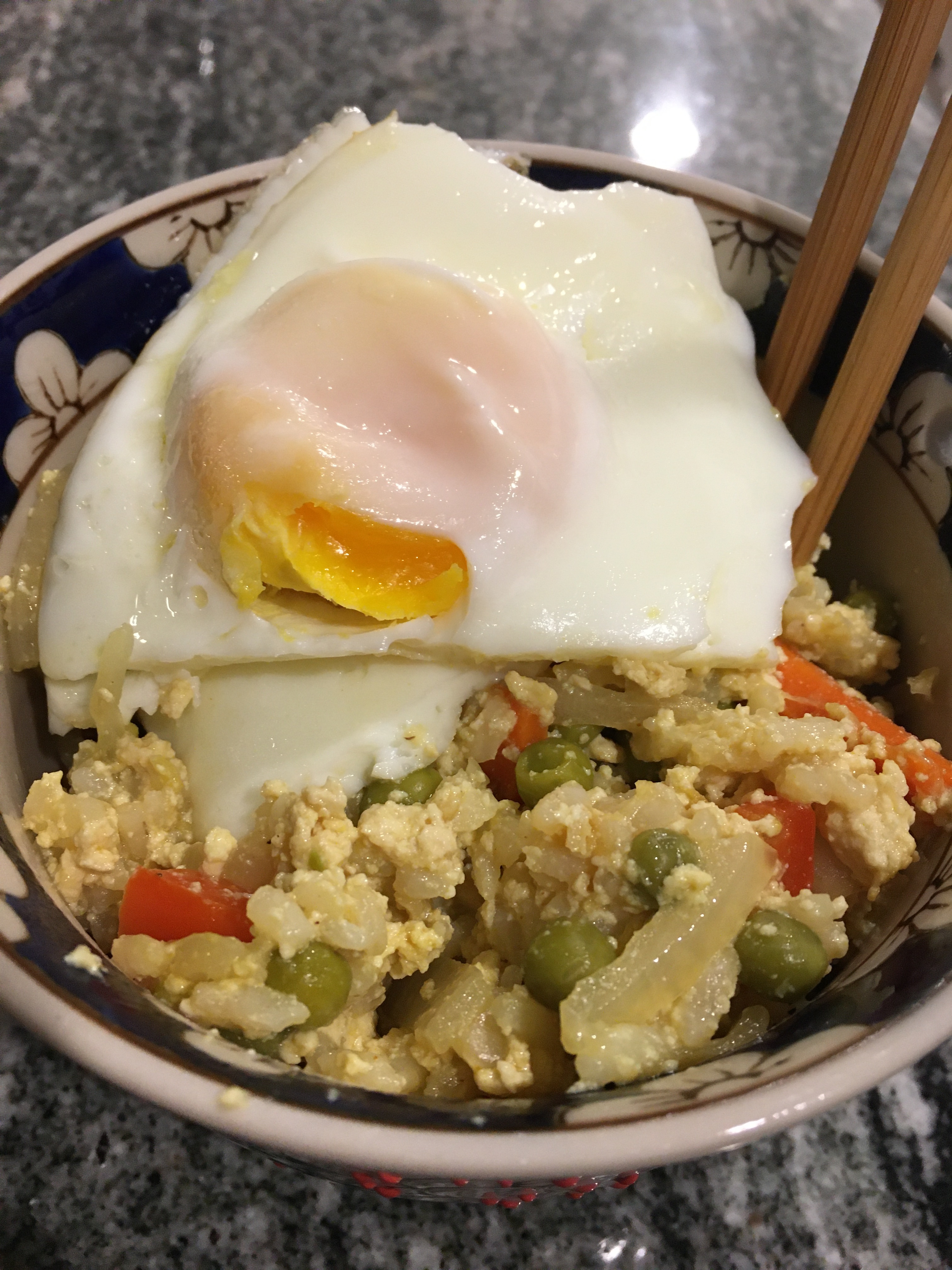 I can't wait for another week of eating! This coming week I was selected for this OUAB lottery event (they host various OSU grad student events on campus) in which Rhiannon and I will get to cook some seafood. We're also going to make out couscous dish again as well as udon. It was really fun to reflect on all this great food I'm really grateful for having eaten. Thanks for reading.